"Control the Mind and You control
the Dog"
Emmet Sasser, started his bird dog trainer journey as a toddler riding around in his grandfather's bird bag. He grew up training and hunting with his grandfather and the family dogs. As his interest grew in training and trialing, he found an exceptional mentor in dog trainer and handler, Tom Woods (NBHA Hall of Fame). Emmet's training style was heavily influenced by the years spent training under Tom, and his methodology is a big part of who Emmet is today.  Through Tom, and other NBHA members, Emmet made lifelong connections and received invaluable guidance and mentorship from Glen Cumbie (NBHA Hall of Fame), Steve Morgan (mentored by Glen), and Butch Watson (who gave Emmet his initial training equipment setup). Emmet has continued developing his personal training style through observation of behavior in the field, studying and shaping responses to training, and learning how to develop his gun dogs without subduing their spirit. His methods incorporate a calm and steady hand, consistent reinforcement, and lots of praise; all with an intuitive response to each dog's learning process. The dogs that go through his program are responsive, confident, driven and steady in the field and at home. Emmet owns and breeds German Shorthaired Pointers, has been training and hunting with his dogs since 1997, and competing since 2017.
Dog training and bird hunting are innate components of Sasser family heritage. The entire family goes out hunting together with the dogs. Additionally, you will often find Emmet's daughter, a young dog trainer herself, out handling birds, training her pup, and helping her Papa.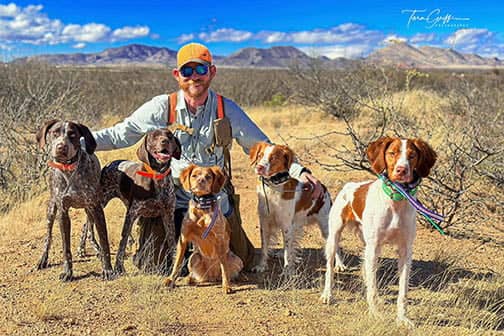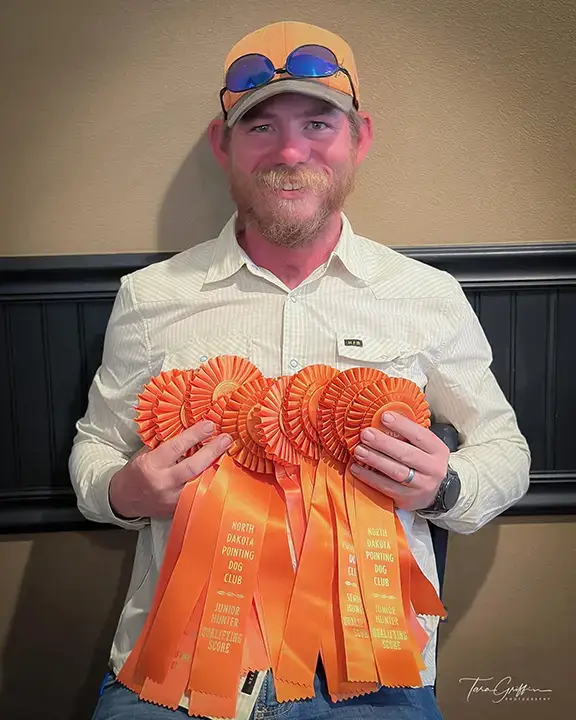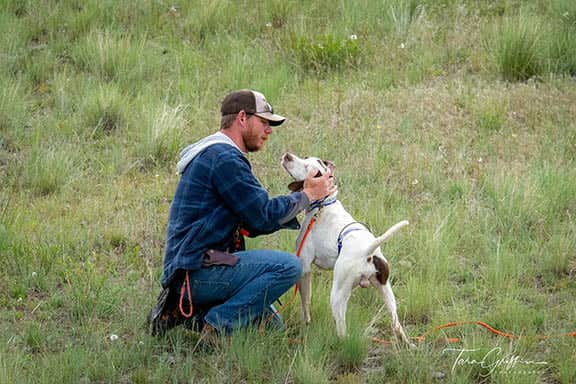 2019/2020 NBHA Amateur Shooting Dog Handler of the Year

 

2020/2021 NBHA Runner-up Open Shooting Dog Handler of the Year

Trained/Handled the NBHA Runner-Up Open Shooting Dog of the Year 2019/2020 & 2020/2021

 

2020/2021 – NBHA

National Amateur Invitational Championship

– Amateur Puppy 1

st

placement by

Emmet's daughter, P. Sasser,

 

with her Sasser-bred puppy, Sasser's Rockhill Farms.

 
Field Trials • Hunt Tests • Hunting Companion
Gun Dog Training at MTK isn't a just a few sessions or a season, it is a Lifestyle.
Our programs begin in the spring, along with our puppy program, to level-set our client dogs in preparation for our Training Camps. Training Camps start in July and run through the end of February spanning multiple States – from the Canadian border all the way down to the Mexican border. We go where the birds live! Bird exposure on wild birds starts during late July's summer camp and continues throughout the seasons as we follow the birds to extend our training/hunting opportunities.
Obedience
Puppy Program
30, 60 day Programs
Started/Young Dogs
Advanced – Broke Dog
Spring Camp 
Summer Camp
Sept: Grouse/Hungarian Partridge
Oct: Pheasant
Nov/Dec: Chukar
Jan/Feb: Quail